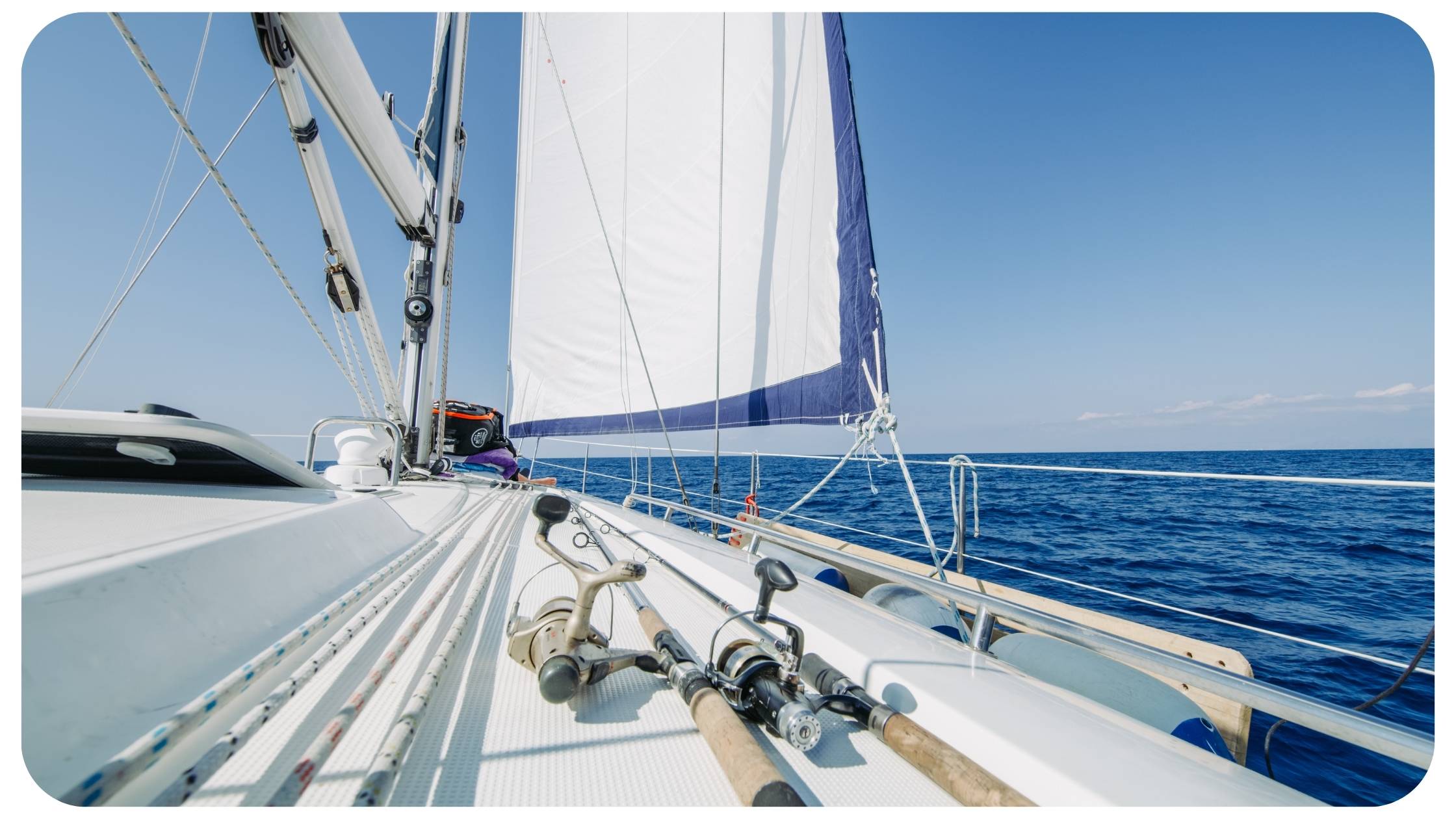 Want to know about fishing from a yacht? This article will give you everything you need to get started.
There's nothing like catching your fish at sea and hearing the satisfying sizzle of the frying pan announcing your dinner. The real treat happens when you get to recount tales about the big fishes you snagged, the stubborn ones that got away, and the wily ones that never took the bait.
The best part of it all is this: It's easier than you think.
The idea of fishing from a yacht calls for questions such as these: How exactly do I go about fishing from a sailboat? What equipment and gear do I take along with me? What sot of fish should we expect to catch? Are there any techniques that are particularly useful for fishing while under sail?
This article aims to be a complete guide to fishing from a yacht; including the basic essentials and tools needed to ensure everything goes well right from the start. Enjoy!
Basic List of Fishing Gear
You might be an experienced sailor, but if you've never been fishing before there might be a steep learning curve. If you're a fishing beginner, getting the necessary fishing equipment might be daunting and overwhelming; simply because there are many options to pick from. We've put together a basic list of equipment, along with some specific recommendations, with the aim of making this process as easy as possible for you.
1. Fishing rods
Fishing rods are poles used to hurl fishing lines into the water; at a deeper depth. Each rod is differentiated according to its toughness, power, and action.
For fishing from a sailing yacht, we recommend the PLUSINNO Fishing Rod and Reel Combo
2. Fishing reels
These are gears that are attached to the rods to help retrieve baits by drawing in your catch and at selective speed.
3. Fishing lines
Fishing lines are specially crafted strings or cords for fishing. They come in varieties of strengths, elasticity, and visibility. The selection of a type of fishing line depends on the fish you're aiming to reel in.
The Berkley Trilene XL Monofilament Fishing Line is a good all purpose fishing line.
4. Hooks
These hooks could be single, double, treble, or circle. They are used for trapping the fishes by the mouth whenever they take a bite of the bait. The type of fishing hook you choose will depend on the type of fish you are hoping to catch, and where you are fishing (or sailing).
5. Live baits
Baits are what you attach at the end of the hooks to tempt the fishes. There are options of live baits, e.g. worms or even leftover fish from your last endeavour.
6. Lures
Lures are artificial baits fashioned to look like real fishes, to attract predator fishes in the water. These are the most practical for fishing from a sailing boat, as it's likely that you will be unable to pick up or store live bait easily.
7. Swivels
Swivels prevent the problem of the fishing line twisting when the bait is spinning and moving around.
A pack such as the ReeMoo 200PCS Fishing Rolling Ball Bearing Barrel Swivel with Safety Snap Connector Fishing Accessories should give you everything you need.
8. Sinkers
A sinker is essential in the process of stabilising the fishing line as the hook and baits submerge in the water.
9. Rod holders
Rod holders assure you that your rods are safe. The excitement of making a catch, coupled with the fishing line's tugging, could yank the rod right out of the boat. Hence, a rod holder is essential.
These rod holders will attach right on to your guardrail.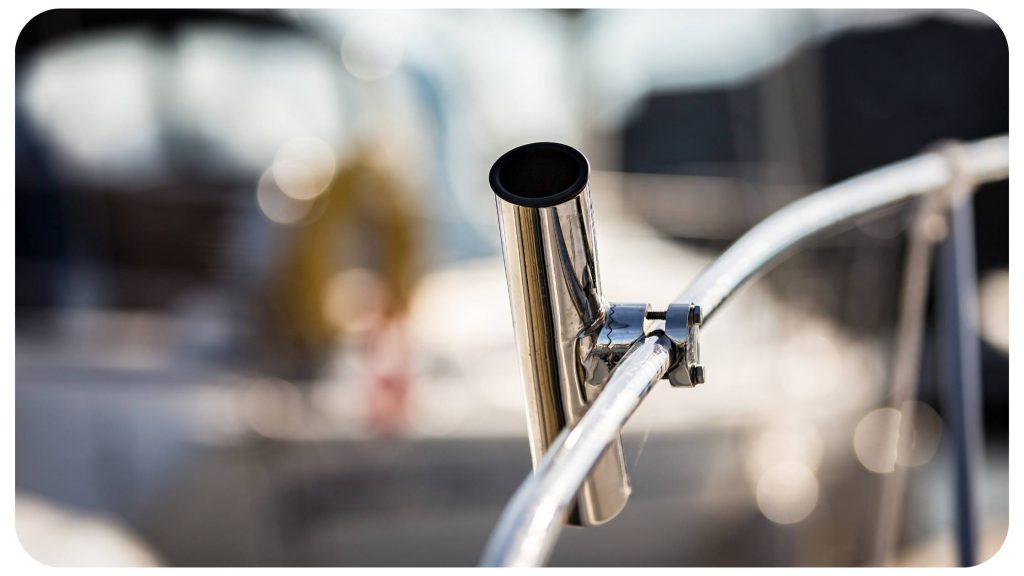 Other useful fishing gear includes:
1. Filleting knife and board for preparing the fish
2. Fishing gloves for protection
3. Leaders for protecting the fishing lines against the sharp teeth of some fishes.
4. Gaffs and nets for bringing large fishes on board
5. You will probably already have one, but a boat hook can be really useful for pulling your catch aboard.
Also, you can take advice from the local tackle shops. That, coupled with the type of fish you're hoping to catch and the area you're fishing in, will streamline your options greatly.
Different techniques for fishing from a yacht
Now that you've bought your gear, you're pumped and already set up. What next? There are three basic ways to fish from a sailboat. You could fish while towing a lure behind your boat while either under power or sail (also known as trolling), or while drifting (also known as jigging), or at anchor.
1. Trolling
This technique involves casting the hook with a ready bait behind a slow-moving boat. Ideally, you need to move at no more than 2 – 4 knots. Thus speed ensures that the lure appears realistic to the fishes.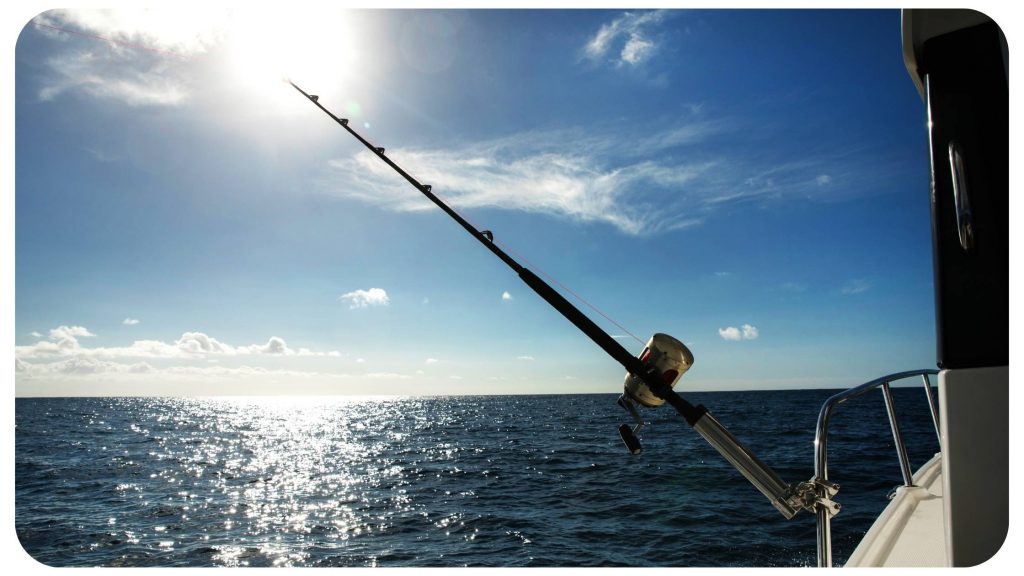 The best way of fishing underway from a yacht is with some form of wind vane or autopilot system, so you can focus on fishing and keeping the lines clear. For this, you will definitely want some form of rod holder attached to your read guard rail to make sure that all the lines are kept clear of the lines and sails, and to free your hands to operate the yacht while underway.
2. Fishing At Anchor
Fishing at the anchor is the simplest method of catching dinner. The simple rocking of the boat will cause the necessary disturbance needed to attract the fishes.
Fishing while under anchor means that you can give it your full attention, and is much like fishing from the shore. However, if using this technique, as opposed to trolling while under sail, you may need to cast your line and bring it in repeatedly in order to make your bait appeal 'live'.
What Is The Best Time For Fishing from a Yacht?
Generally, it's advisable to fish at dawn or dusk. However, great fish can and are caught at all hours of the day, including at night. To be honest, sailing is fairly all-consuming at times, so you will probably have to fish at a time that's dictated by the weather, your crew and your sailing itinerary.
Safety Tips You Ought To Know
As harmless as it could appear at first glance, it is quite possible to sustain injuries while fishing from a yacht or sailboat. Here are a couple of tips to help keep you safe while fishing.
When reeling in a fish, don't do so without wearing hand gloves.
Don't eat any fish you are unsure of. A fish identification chart could come in handy here.
Don't be in a rush to take the hook from the fish's mouth.
Do cover the gaff hook with a cork when not in use.
Do attach a leader or swivel before placing the lure.
Do select fishing lines that are strong enough to hold on to the fish you hope to catch.
Do ask for advice from local fishers about what has worked for them.
Do invest in quality equipment.
Take extra care if you are sailing with children or dogs on board
It's also very important to realise that sailing can be dangerous even when you don't have the added complexities of fishing lies, hooks ad lures to deal with. The key to fishing safely from a sailing boat is to know your limitations, and to only do it when things on the yacht are firmly under control.
And that ends the guide to fishing from a yacht. The best thing to do is seek directions from pros, practice, learn from mistakes, and of course, have fun. Enjoy!