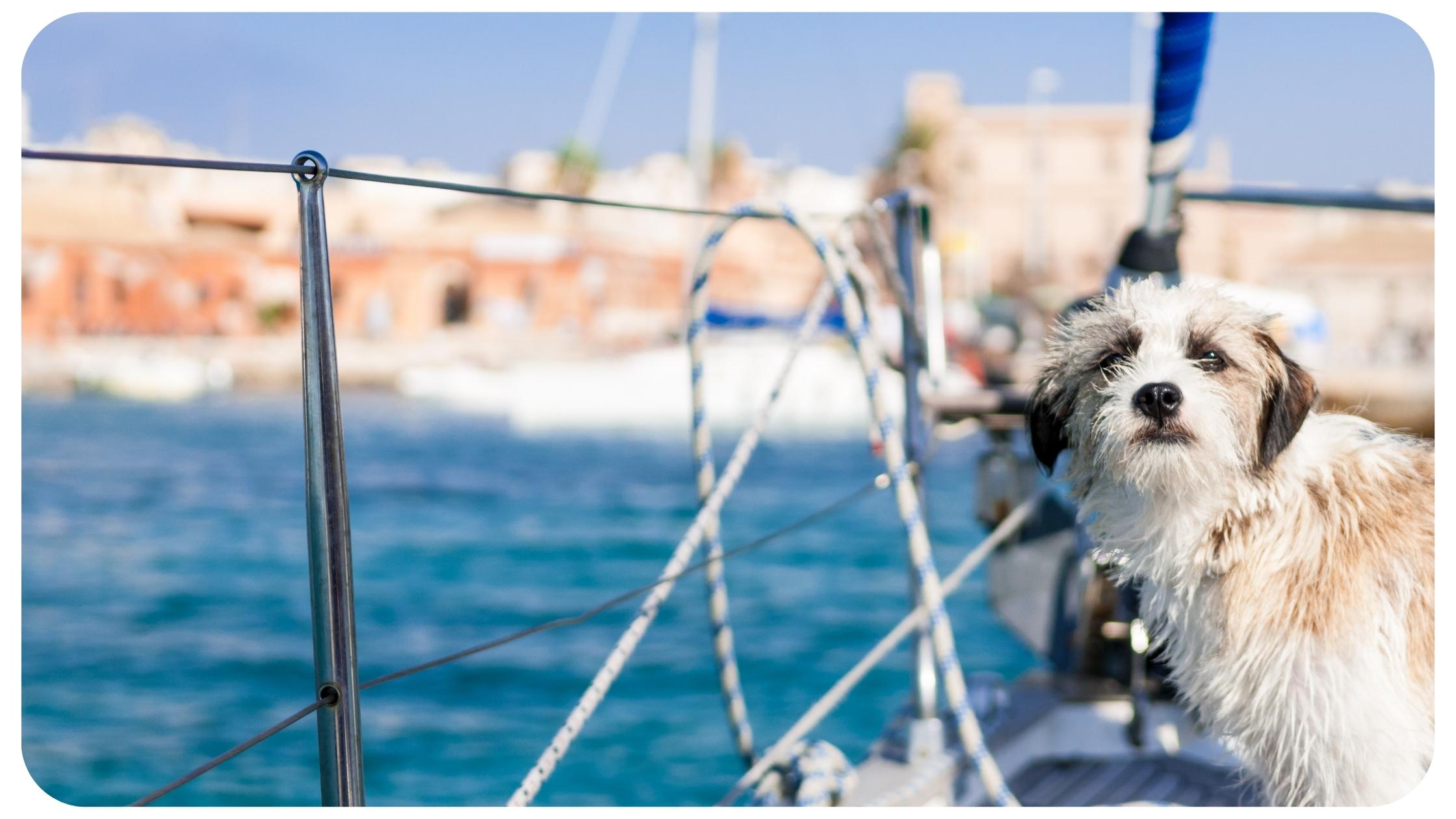 If you're heading out on the water, it's only natural that you'll want to take man's best friend with you for the trip. But how does sailing with dogs work? Is it advisable and what are the best pieces of kit you need to keep your four-legged pal content?
We've put together a guide that will put your mind completely at ease. The key to sailing with a dog is in the preparation you put in before you head aboard, so read our guide to find out:
Which dogs are best suited to sailing?
How to slowly encourage your dog's adventurous spirit
The necessary safety measures for your boat
The importance of checking the rules of your charter company
Dog health tips whilst sailing
How to deal with potty trips
Our tips are aimed at people who want to take their dog on a sailboat as part of a holiday, as well as local boat owners who want to involve their pet in their hobby on a more regular basis.
Eager to learn more about sailing with a dog? Let's dive right in.
A short history of dogs on boats
It's more than 800,000 years since humans first built seaworthy boats for exploration, migration, and conquering new lands. Since then, dogs have long been our faithful companions, and have enjoyed many a sea voyage as trusted sidekicks assisting in hunting and guardianship. An extraordinary dog in the Second World War was even trained to identify enemy submarines approaching.
Which dog breeds are best suited to sailing?
Humans have bred dogs depending over centuries depending on the purpose they have needed them for. Some were bred for hunting, others for farming or domestication. In modern times, people have bred for shows too. As a result, several dog breeds are extremely comfortable with being in water, either due to the location they're associated with or their role in the fishing industry. For example, it's known that Labrador Retrievers were originally bred to jump into icy-cold water in the Newfoundland region of Canada and bring back fish-filled nets.
The following breeds of dog are some of the best who are suited to water:
American Water Spaniel
English Springer Spaniel
Portuguese Waterdog
Golden Retrievers
Labrador Retrievers
If you have one of these dogs, then great. But if you have another breed entirely, does it mean you're not able to go sailing together? Absolutely not. Just follow the tips in this guide to ensure your trip is a great success.
Prepping your dog on land
If your pet hasn't yet found his sea legs, then you'll need to start your preparation on land. Every dog is different, but if you know that yours is quite timid or downright afraid of water, then your journey to setting sail together may take a little longer.
If your pup is already an adventurous type and accompanies you on plenty of different types of journeys, then they'll likely be comfortable with the transition to water. But if your dog rarely breaks routine and the furthest you've ever been together is the local park, then it's worth trying some new things together to build confidence and strengthen the trust between you.
You can try going hiking and walking alongside lakes, streams, or rivers so that they're comfortable with being next to, or even paddling in the water. This will also give your pup a chance to get used to new noises, different smells, and any sudden movements out in nature.
Once you're confident that your dog is ready to try sailing, it's important to take it slow. Start by renting a boat for a short trip on a river or lake to see how they acclimatise. You should always give your four-legged pal plenty of time to settle in on board before you set sail.
All of these steps could take time, so don't be discouraged if it's not going well on the first trip. But remember that if your dog is genuinely distressed by water and isn't responding to any of your encouragement at all, then you might want to reconsider sailing with your dog and perhaps plan a different type of terrestrial adventure together instead.
Checking the rules of dogs on sailboats
If you have your own sailboat, then you should be ready to set sail as soon as you've carried out some basic health and safety checks of your boat. But if you're using a charter company to hire a sailboat, then you should check their rules and regulations before you embark on your doggy voyage together.
This should be done in advance of paying a deposit or balance for your trip as some companies flat out refuse to let dogs onboard their boats. Others have rules based on the size of the dog, and some will charge an extra daily fee, or double the cleaning bill at the end of your trip.
You should always be able to find a charter company with an appropriate boat for your trip, but remember to check in advance to avoid disappointment.
Overseas regulations
If you're travelling overseas with your pet or will be crossing international waters, then the rules of sailing with dogs become more complex. Every country in the world has its own individual requirements relating to quarantine and vaccinations. A list of requirements you may need to meet include:
Microchipping your pet
Recent rabies vaccination
Animal health certificate
Tapeworm treatment
Quarantine on arrival
You should always check with the country you're travelling to beforehand and if you need to fly during any part of the journey, make sure that you have a carrier that is suitable for the flight. Some countries require dogs to be on a lead in public, so this another rule you should check before you begin your boating trip.
Wearing a dog life jacket
Once you've got through all the red tape and are confident that your pup is ready to set sail, it's time to prepare your boat. Even the best dog swimmers can quickly run into trouble in deeper water, which is why a floatation device, otherwise known as a doggy life jacket is an essential item for your sailing trip.
How do you know if your life jacket of choice is a good design? Make sure that it has both a neck closure and adjustable body straps that can accommodate your dog's build. The fit will need to be snug without hindering their mobility.
Each manufacturer will have a different sizing chart, which you should read when measuring your dog. Typically, you can expect to measure their:
Chest (the girth around the rib cage)
Neck (the wide, lower point around the shoulders)
Length (from the base of the neck to the tail base)
Weight
All of these measurements will help you choose the safest flotation device for your four-legged friend, but you should always ask the manufacturer if you have any specific questions.
Installing a safety net
To prevent your dog from ever having to rely on their life jacket, it's a great idea to install a safety net so they're unable to fall in. This works by stretching the net across the railing of your boat, with different options available depending on the size of your boat. Even if your dog is well-trained and wouldn't voluntarily jump in, the movement of the boat could easily set your pet off-balance and send him over the side unless you have a safety net erected.
This Nautos guardrail netting is made from knitted mesh for a strong design.
It's a useful addition to your sailing kit as it also prevents children from falling overboard if you've brought the family with you. Additionally, it keeps other bits of kit such as fishing equipment firmly on deck in rough waters.
Keeping your dog safe on deck
The water isn't the only risk to dogs on sailboats. You should plan how to keep them safe on board too. Unfortunately, boats have rarely been designed and built with canine passengers in mind. Moving between decks can be decidedly tricky for dogs, particularly if there's surface water making the floor slippery.
If your dog is too large to comfortably lift around the boat, then you'll need to install some anti-slip matting so they can roam about the vessel without fear of a nasty fall.
You can also bring a portable dog ladder or ramp for a safe and easy climb or descent. A collapsible ramp design will also help them get on and off the boat.
Hydration when sailing with dogs
If you're going on a sunny cruise with your dog, then the weather will be one of the biggest risks to your canine pal. Your dog could easily become overheated which puts them at risk of sunstroke and dehydration.
To prevent this from happening, make sure you provide your dog with a cool, shaded area on your boat for them to relax in. They should always have access to a stable bowl of water that doesn't splash around.
Remember that a thirsty dog will try to drink salty seawater which can quickly put their health at risk. Stock up with more water than you think you will need before you set sail so you can replenish your doggy's fluids as much as required.
Wondering how you can tell if your dog is suffering from dehydration or overheating? Follow this checklist of symptoms and seek advice from a veterinarian as soon as possible.
Continuous, noisy panting
Eyes are glazed over
Disorientated
Weak, limp, or collapsed
Racing pulse
Vomiting and diarrhoea
Dark red gums and tongue
Seizure
Excessive drooling
If you do feel that your dog needs to cool down on your boat, then don't soak him completely. You can simply cool the legs and groin area with wet blankets or use a coolingmat for maximum comfort.
Seasickness in dogs on sailboats
Another common problem you may come across when sailing with dogs is one that we humans can also relate to. Seasickness!
Motion sickness is more common in puppies than in more mature dogs, although there can be some overlap between the symptoms of anxiety at being on the water and actually being seasick.
Dogs won't be able to tell you that they're feeling queazy, but watch for tell-tale physical signals including:
Yawning
Licking their lips
Excessive drooling
Feeling sleepy
Whimpering or whining
Lethargy
Do you suspect that your dog may be affected by motion sickness, for example, if they also don't travel well by car? In this case, a vet may be able to prescribe a prescription before your trip depending on how severe the symptoms are likely to be. Remember again, that you need to watch that your dog only has clean water from their bowl and should not be allowed to drink salty water which will make them feel worse.
Safety on land
If you're planning to return to shore periodically, perhaps to let your dog stretch his legs, go on a hiking adventure, or simply to enjoy the solitude of a quiet bay, then be aware of the dangers that can be found on land.
Broken glass, rusty metal, pest poisons, and even some wildlife all have the potential to cause harm to your dog. Never set sail with your dog without taking a well-stocked first aid kit on board with you. This should contain the following items:
Bandages (crepe or self-adhesive)
Non-adhesive absorbent dressings
Surgical sticky tape
Scissors
Cotton wool
Absorbent gauze
Towel
Dog collar (shaped like a lampshade)
Try to keep your vet's number handy before your trip so you can call for advice. You should also research local vet contact details in case you need urgent assistance.
Potty training
Safety comes first, but now that you know the best practices for sailing with a healthy dog, you'll want to know about potty training your pup. Where exactly can they do their business when you're on the water?
There are two suitable options available. You can either train your dog to do their business on board, or else you can anchor ashore at several points during the day, so they can stretch their legs and find a spot on land.
If you choose to head to the mainland, then you'll probably need to do so every three to five hours. However, if you know that your dog has a slightly different routine to this, be sure to tailor your journey around their regular timetable. Try to plan your stops so you know where you can anchor your boat safely.
If you prefer to stay on the water during your sailing trip, then you'll need to train your pup to do their business in a designated spot onboard. This isn't quite as easy with dogs as it is with cats for example. But it's certainly not impossible when sailing with a dog.
Many experienced people who take their dog on board their sailboat use a special piece of carpet or artificial grass which they tape down to the deck. You can encourage your pup to do his business by using some special motivational potty treats. If the place you've designated isn't working but you notice that your dog keeps going in a different area of the boat, then simply move your grass to their preferred spot. It may take some practice after years of going where they please on land, but they'll get into the routine of boating life.
Designated quiet space
If your dog has his own bed or quiet spot at home, then you'll need to replicate this area on your boat. This is particularly important if they're displaying signs of being anxious about the switch to boating life. Bringing their favourite blanket and laying it down straightaway in their special spot, will help them adapt quickly to the new environment.
Any preferred chew toys or comfort items should also be brought along, not least because you can leave your pup to unwind without distracting you from sailing. If you suspect that your dog may experience nerves, then bringing along a weighted blanket can help to put them at ease.
Stock up on supplies
Last, but not least, remember to stock up on plenty of dog food and treats before you set sail. If your pup has a favourite brand of food, then remember to pack enough for your voyage. Even if you do plan to anchor up and grab some grocery supplies, you might not be able to get the right brand you need. The last thing you need on your sailing trip is a fussy dog who is off his food.
Bring along plenty of treats too to motivate your pet towards excellent behaviour onboard. Pack these bribes and it won't be long before he's mastered the art of being a dependable sailing companion.
Time to set sail with your dog
Now you've finished this guide, you're ready to start planning your next doggy-friendly sailing trip. Remember that the key is to do plenty of prep work and to stock up on the necessary safety equipment before you set sail. For more sailing tips, check out our Sailing blog which is regularly updated with the latest news, hacks, and reviews.